Book a consultation
Send us your details and we will confirm a time for your appointment.
Speak to us now
Gum Grafts
Uses:
Covering Areas of Gum Recession around Teeth Roots
Building contour of Gums
Augmenting Gums around Dental Implants and Missing Teeth

The Procedure:
The Gums are numbed with Local Anaesthetic, the Gums are lifted around the teeth in a micro-surgical technique and the alloderm graft is placed underneathe the gums and sutures are placed. You will need to avoid brushing the area for two weeks, but instead using mouthwash and following a strict soft diet in the area.
The Results:
The Alloderm graft tissue creates a scaffold for your connective tissue to grow through and helps stabilise the gums to grow back to their proper thickness and height, giving the gums that extra protection around teeth.
Important:
Oral Hygeine and the cause of the gum recession needs to be treated to provide long-term stable results, and this often means lighter toothbrushing, adjusting your bite and appropriate mouthwashes.
A Case from Biohorizons:
Official Information Brochure on Alloderm from Biohorizons
Risks:
Bleeding after surgery
Infection after surgery
Loss of Gums
Damage caused by surgery
When indicated, a Gum Grafting procedure will outweight the risks of the procedure which occur at a low rate when all post-operative instructions are followed such as soft diet, minimal brushing, mouthwash and medications.
Costs:
From $1,500 per procedure
Related Periodontal (Gum) Surgery Articles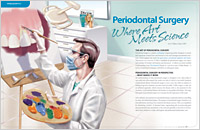 Periodontal Surgery - Where Art Meets Science
This article is an overview of how the art of plastic surgical procedures and the science of periodontics can enhance the health and beauty of your teeth. You will learn what periodontal surgery is designed to do, what makes it successful and what to expect during treatment... Read Article
Any surgical or invasive procedure carries risks. Before proceeding, you should seek a second opinion from an appropriately qualified health practitioner. Individual results will vary.
Read more in Our Informed Consent Document