Book a consultation
Send us your details and we will confirm a time for your appointment.
Speak to us now
General Dental Plans

High Quality

Stronger Teeth, no decay!

Prevent Decay and Gum Disease

Payment and Costs Explained

5 Year Major dental Guarantee
Step One:

Consult

Step Two:

Personal Plan

Step Three:

Healthy Mouth
General Dentistry
The best way to look after your teeth and save money is to have regular six (6) monthly check-up and cleanings at the Dentist. This helps to avoid broken teeth and major dental treatments by finding and preventing major problems before they progress. Brushing, flossing, mouthrinses and diet are also an important aspect of having a healthy mouth.
At Smile Artistry we take your general dental health seriously! Following your New Patient Check-up, a Dental Plan is created by our Dentists. Your plan will include urgent treatment recommendations and then go on to make recommendations about short-term, medium-term and long-term mouth health issues that need attention. You will receive a printed report identifying these areas and estimated treatment costs. Treatment can then be planned and staged to help you work out what is best for you.
A Dental Plan focuses on Key Areas:
Gum Related Factors
Tooth Strength (Decay, Cracks, Existing Fillings, Root Canals) Factors
Bite Related Factors (Grinding, Broken Teeth)
Aesthetic Factors (Colour, shape, position)
What's Next?
A New Patient Examination is the next step in assessing your mouth and creating your personal plan for dental health.
Related General Dentistry Articles
The Natural Beauty of Tooth Colored Fillings
The public's demand for aesthetic tooth colored (metal free) restorations (fillings) together with the dental profession's desire to preserve as much natural tooth structure as possible, has led to the development of special "adhesive" tooth colored restorations... Read Article
What is Tooth Decay? – And How to Prevent It!
Tooth Decay is an infection, and many people don't realize that it is preventable. This article is the first in a series about tooth decay, perhaps the number one reason children and adults lose teeth during their lifetime. Explore the causes of tooth decay, its prevention and the relationship to bacteria, sugars and acids... Read Article
Tooth Decay – How To Assess Your Risk
Don't wait for cavities to occur and then have them fixed — stop them before they start. Modern dentistry is moving towards an approach to managing tooth decay that is evidence-based — on years of accumulated, systematic, and valid scientific research. This article discusses what you need to know to assess your risk and change the conditions that lead to decay... Read Article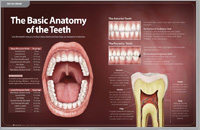 Basic Anatomy of Teeth
Adults have 32 teeth. This includes the wisdom teeth which are simply a third set of molars. It is possible to be born with less than 32 teeth or more than 32 teeth. If a person has had all four of their wisdom teeth removed, they will have 28 teeth...Read Article
More About General Dentistry
Modern technology, and a commitment to education, means Smile Artistry offers leading general dental services. Our staff will endeavour to offer you convenient appointment times to suit you and your children's busy lives!
General Dentistry includes disciplines:
Consultations
Preventive Dental Care
Check-ups and Cleaning
White Fillings
Gum Disease Prevention
Crowns
Bridges
Root Canal
Wisdom Teeth Assessment
Children Dental Care
Any surgical or invasive procedure carries risks. Before proceeding, you should seek a second opinion from an appropriately qualified health practitioner. Individual results will vary.
Read more in Our Informed Consent Document